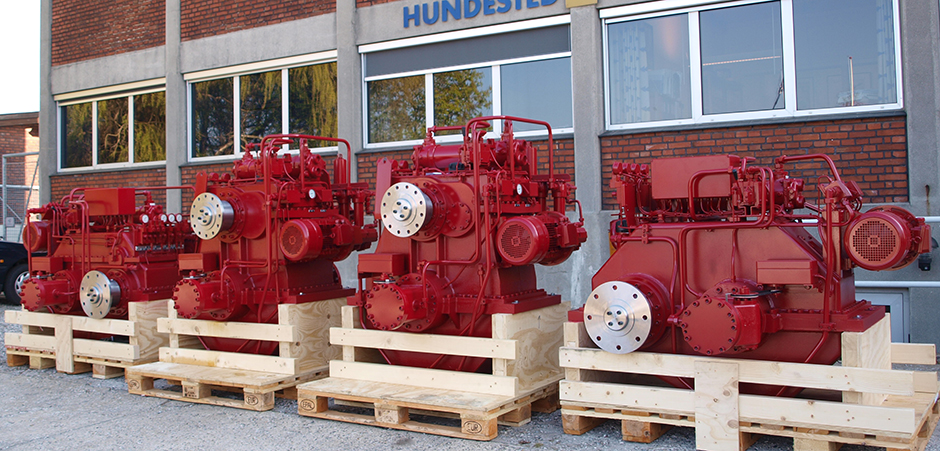 We have designed and produced our own marine gearboxes since 1985. Controllable Pitch Gearboxes (CPGs) all have built in pitch control for the propeller. The hydraulic system of all CPG gearboxes includes a double oil pump. One pump is utilized exclusively for the pitch control and the other is utilized for the clutch, a possible shaft brake, and lubrication.
From 300 HP to 4500 HP – Depending on engine RPM and the reduction ratio
All sizes have ground, case hardened, helical gear wheels
Special features and Individually Developed Gearboxes Available
A special feature is the modular PTO system to drive hydraulic pumps or generators. All PTO's have an individual hydraulic clutch. Up to 3 PTOs are available for all sizes.
If an extremely noise and vibration free system is required, our gearboxes can be delivered with both semi-flexible foundations as well as a semi-elastic coupling on the gearbox output shaft. These features mean that any noise and vibrations will not be transmitted to the hull. These features have become a request from our customers in the pleasure boat industry.
Besides our standard product line, we offer individually developed gearboxes to meet any special requirements our customers may have regarding dimensions, power, reduction ratio, PTO´s, angle gears etc. This means we can supply special gearboxes no other supplier can deliver.